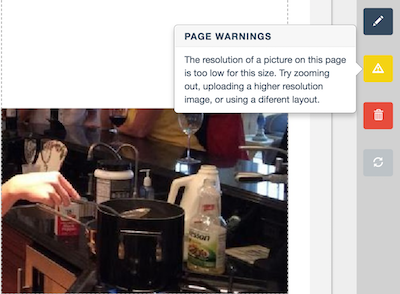 If you receive a photo warning on a cookbook page or your cookbook cover, it means that the photo resolution is too low for a space of that size. To avoid your photos looking pixelated in print, resize the photo to make it smaller or choose a higher resolution photo.
Full page photos (such as on the cover or section divider page) will need higher resolution to fill such a large space without looking pixelated. However, if you want the image to take up a smaller area of the page, the resolution does not need to be as high. Below are some examples of photo resolution at the minimum standard of 100 dpi (dots per inch):
Full page photo = 800 x 1000 px
Half page photo = 700 x 450 px
Quarter page photo = 300 x 300 px
(these are only examples. images with higher resolution are always better)
Tips for making sure you are happy with the photo quality:
Many people have varying degrees of standards when it comes to print quality. We recommend 300 dpi for all our images, but in reality, many customers have been very satisfied with images printed
at much lower dpi. 
Once your print ready files have been created, you can print out the photos on a home printer to get an idea of how the images will look in the final printing of the book. 
If you don't feel comfortable with the results, see if there is a way to get the highest quality version of the image possible. Keep in mind that you cannot increase the quality of a photo. You will need a higher resolution version. 
Upload the highest quality version of the photo - say by uploading from the camera or re-scan the images.
Unfortunately, many photos that are located online have been optimized for the site they're on and will likely produce poor results when blown up or published. If you need to acquire photos online, you can try searching for "free food photos" or "food stock photos". Some stock photo websites may require you to purchase the rights to use the photos. You can try the resources listed below. We also have a search function tab called Search Libraries where you can find photos that are the correct resolution and quality. 

https://www.flickr.com/creativecommons/

 
5. If you are using photos from your Facebook account, you can actually access your Facebook photos directly from the designer. Simply choose the Facebook icon under the 'picture' tab on a recipe page and follow the instructions. If you save the photo directly from Facebook, you risk losing photo quality.